Electronic commerce is amazing. Recently, I left my Amazon Fire TV stick with a friend, about 1000 miles away. They could ship it to me, but I won't have it anytime soon. So I went to Amazon and saw that I could order another one and receive it that night. At 8 p.m. I had a brand new Fire TV stick.
Being able to order things on demand and have them delivered to your door the same day is amazing. Like a lot of e-commerce experiences out there, I'm guessing this same day shipping will be something we'll all take for granted in three or four years (maybe with little drones flying in the sky dropping packages in all of our). course before).
Now, the point here is not to emphasize how effective Amazon is. If you are a distributor, you are already well aware of what you are up against. But those kinds of experiences should underscore the importance of building a robust ecommerce platform in particular, and an omnichannel strategy in general, in a way that maximizes efficiency within your channel ecosystem.
Added values ​​of e-commerce: what the data tell us
Recently, we completed a study of contractors in various industries which was designed to give us a better idea of ​​what these customers expect from their suppliers. While we uncovered a number of valuable insights, one key piece looked at the benefits contractors are looking for across the entire distribution ecosystem, including how they currently use distributor websites. and what they would like to see more of in terms of omnichannel offerings.
What we found is that, for starters, around 64% of entrepreneurs are currently using some form of omnichannel e-commerce tool to make purchases. These tools include things like distributor websites, ordering text messages, and channel partner apps. In addition, these entrepreneurs use the websites of distributors for a variety of purposes, the most common of which are:
search for price information or estimation purposes
place orders
product search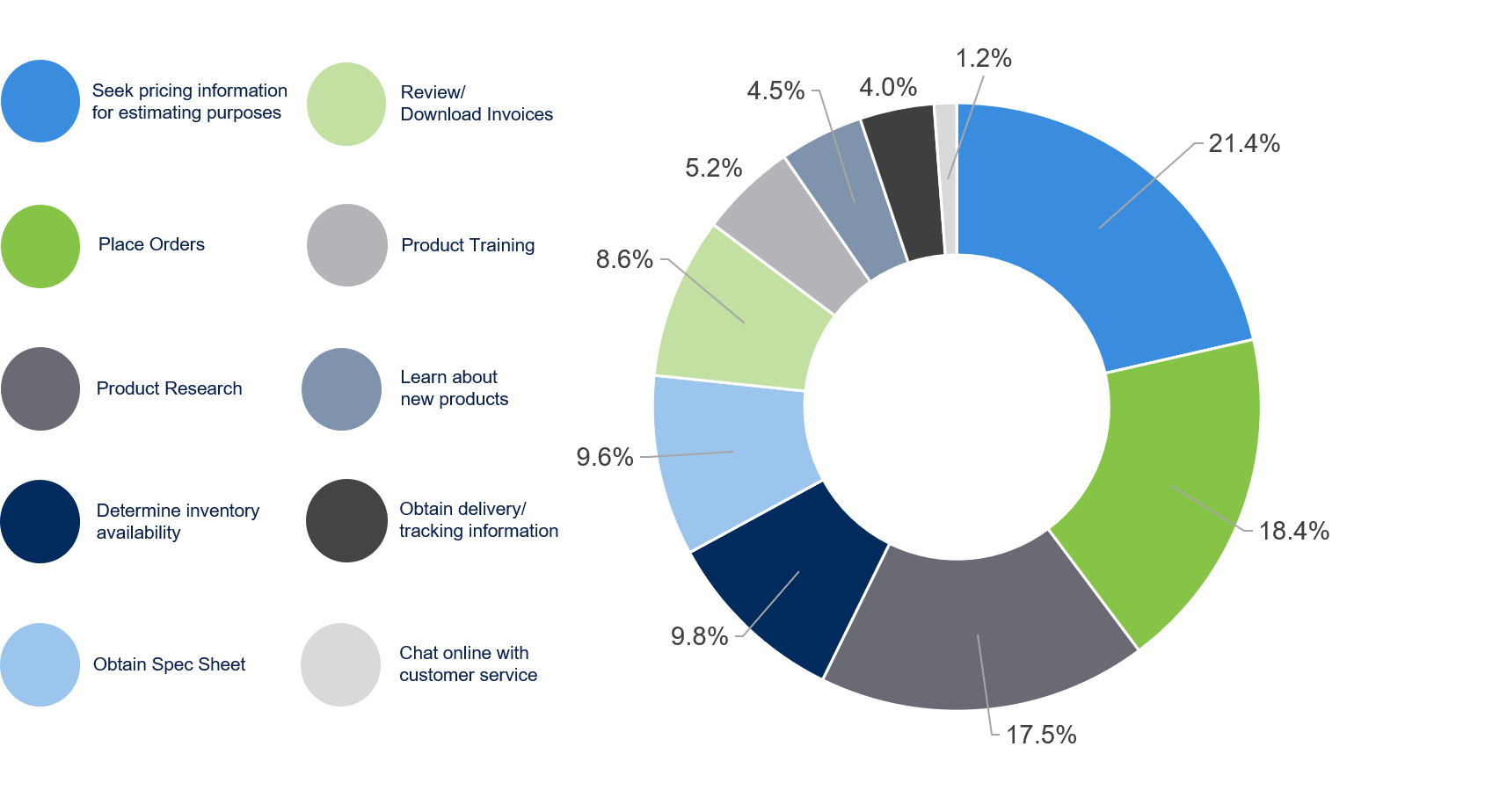 Finally, when asked what they would like to see more of on distributor sites, all responses from leading contractors involved either more sophisticated communication and support, or better real-time updates. This suggests that these two components should be a constant priority for retailers when it comes to adding multi-channel value to their ecosystem as a whole.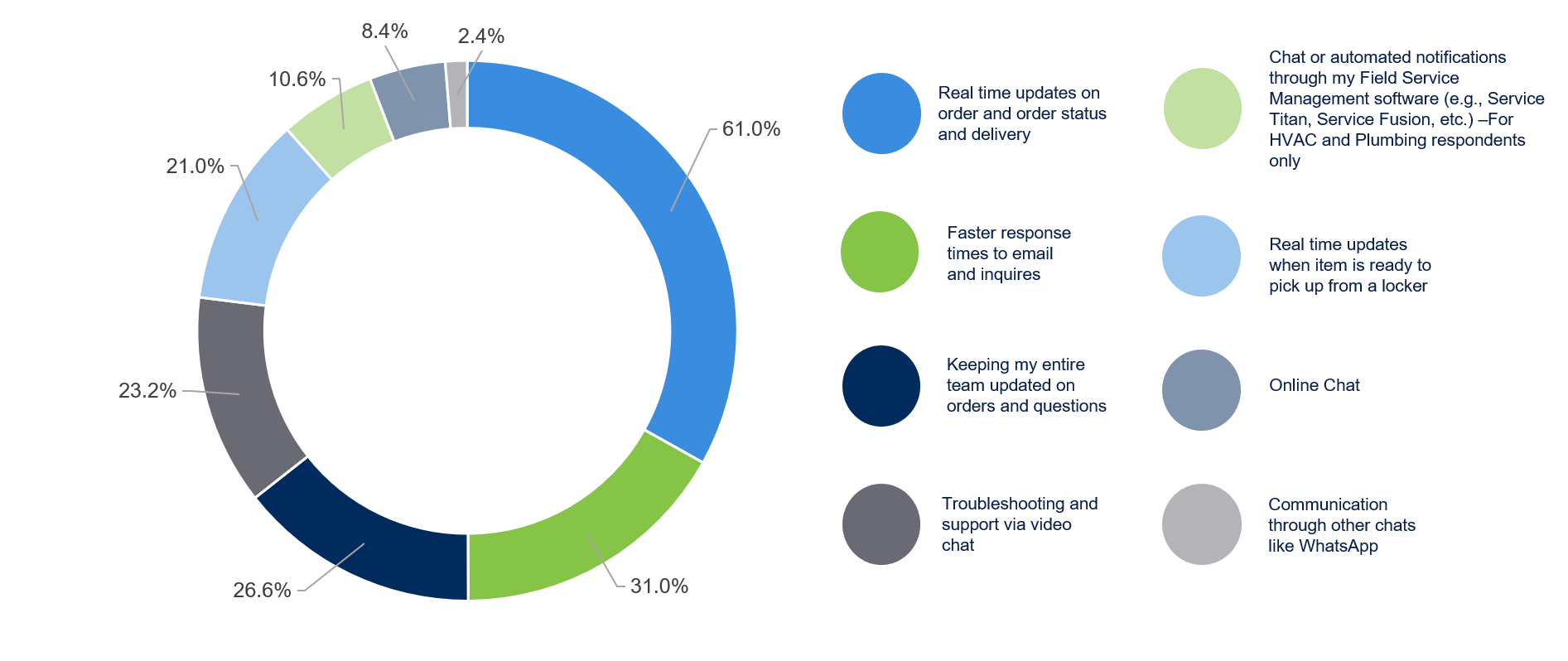 State of the industry
The reasons for the delay in e-commerce adoption vary depending on the size of the distributor and the industry, but some potential barriers include cost, lack of product data, and lack of software staff. These are all very real challenges, of course, but seen through the prism of Amazon Business's nearly 150% growth over the past two years, the slow rate of adoption of sophisticated digital distribution strategies may suggest. a more serious underlying problem in the industry, namely an inability to adapt to changing tides in customer preferences.
That being said, here are some key takeaways:
Entrepreneur clients are increasingly looking to take advantage of a distribution ecosystem that offers omnichannel services
As these entrepreneurs continue to find value through multiple channels, they will likely find more reasons to use them – and expect more from them.
A growing number of distributors see the need to offer some sort of e-commerce experience to their customers, although the overall adoption rate continues to be slow relative to demand.
Retailer digital ecosystems will likely need to expand beyond core e-commerce functions to meet subcontractor expectations in 2021 and beyond
Ultimately, there are several ways for distributors to add value to their traditional market strategy through e-commerce and omnichannel services. Their clients have made it clear that this is the direction things are going. But while this digital transformation may seem daunting to those who are just starting to get started, the important thing to remember is that all of these next-gen tactics reflect a need for more convenience and customization. While Goliaths like Amazon may currently have the upper hand over the former, smaller, more nimble distributors have the opportunity to add value through the latter due to their deep knowledge of their customers and ability to personalize. their approach. The transition won't be easy, but then again, big changes rarely are.
Lincoln Smith has over 20 years of experience designing performance incentive programs for manufacturers, distributors and service partners to help increase portfolio share spend, retain and grow commitment. His expertise covers incentive strategy, loyalty program design and consulting, integrated marketing, promotion and gamification design, experiential event design and global channel marketing. Smith is an Incentive Marketing Association (IMA) Certified Incentive Professional (IP) and sits on the Board of Directors of Incentive and Engagement Solution Providers (IESP). Prior to joining HMI Performance Incentives, he worked as a strategist for Agency.com, helping organizations transition to digital business models. Contact him on LinkedIn.